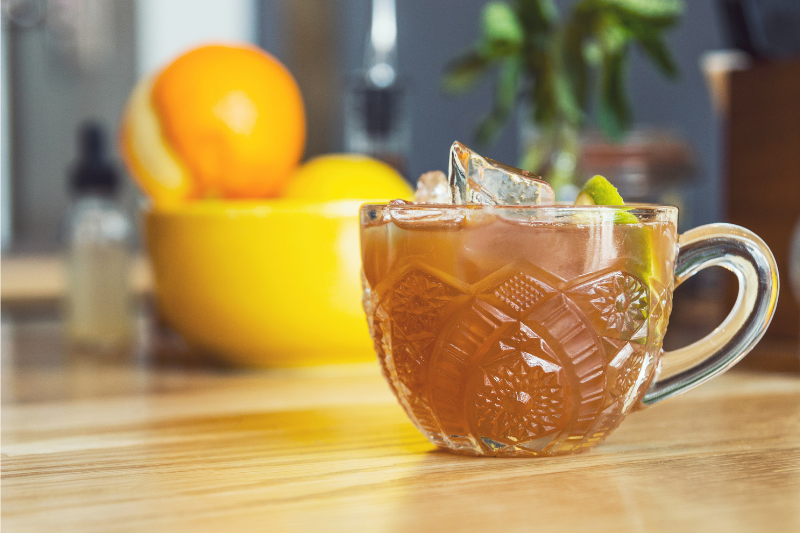 This refreshing and flavourful Earl Grey cocktail is easy to make, takes little preparation and has only a few key ingredients. It contains caffeine so works well as a satisfying and invigorating pick-me-up and is great at any time of the year.

Ingredients:
50ml of a Dry London Gin such as Bombay Sapphire - as an non-alcoholic option you could try Canelo (Light & Zesty) or an alternative that has a juniper berry and botanical base
Small teapot of Earl Grey Classic
1/2 teaspoon of fresh lemon juice (add more as required)
1 teaspoon of honey or sugar (add more as required)
Slice of lemon to garnish or alternatively try a sprig of lavender/ rosemary
Ice cubes
Method:
Step 1

Brew the loose leaf Earl Grey Classic tea with hot water (for 3 or 4 minutes) and allow to chill in the fridge. Use 1 teaspoon for 1 cup.

We recommend making a small batch (a teapot), so that you can make more than one cocktail and enjoy later.

Step 2

Fill a tumbler with ice and pour in the gin and fill the rest with chilled tea. Add the lemon juice and honey/sugar to taste - add more if necessary to achieve the preferred taste.

Step 3

Stir well and add the lemon slice and an optional lavender/ rosemary sprig to garnish.

Enjoy your easy tea-infused cocktail.